She had no idea until i told her
New Look.
Still Same Great Products
How do hair building fibres work?
Hair building fibres are made from vegan friendly cotton.
The secret behind these tiny fibres is that they are slightly electrostatic. Nut Job shakes (or can be pumped on with this applicator) onto dry hair and instantly clings to each of your precious hairs making each one of them appear up to ten times thicker.
That's right ... TEN times thicker. So it looks like you have ten times more hair. So simple.
Fast and easy scalp camouflage
Undetectable - even close up
Stays put in wind, rain, playing sport and ...bed
Washes out in the shower
Wash, dry and reapply
Just about every male TV personality (and a good numbere of females) in Australia is using hair fibres. We know this because we supply them. But our lips are sealed as to who, of course!
Yep, we've got you covered...
What our customers are saying:
Daz From WA told us this story... "I didn't tell her until we were engaged and she was blown away. In all the time we had been together, she had never noticed. Had no idea. But once I told her, she was totally cool with it and told me to continue using Nut Job – she preferred me with more hair"
Heather from NSW told us this story..." Not Just for Men... This is such a brilliant product. While women may not suffer from hair loss in the same way - or to the same extent as men - in our later years thinning & areas where the scalp becomes obvious is very common. This solved my problem completely - with a couple of shakes I can fill in my thinning areas & wear my hair any way I like."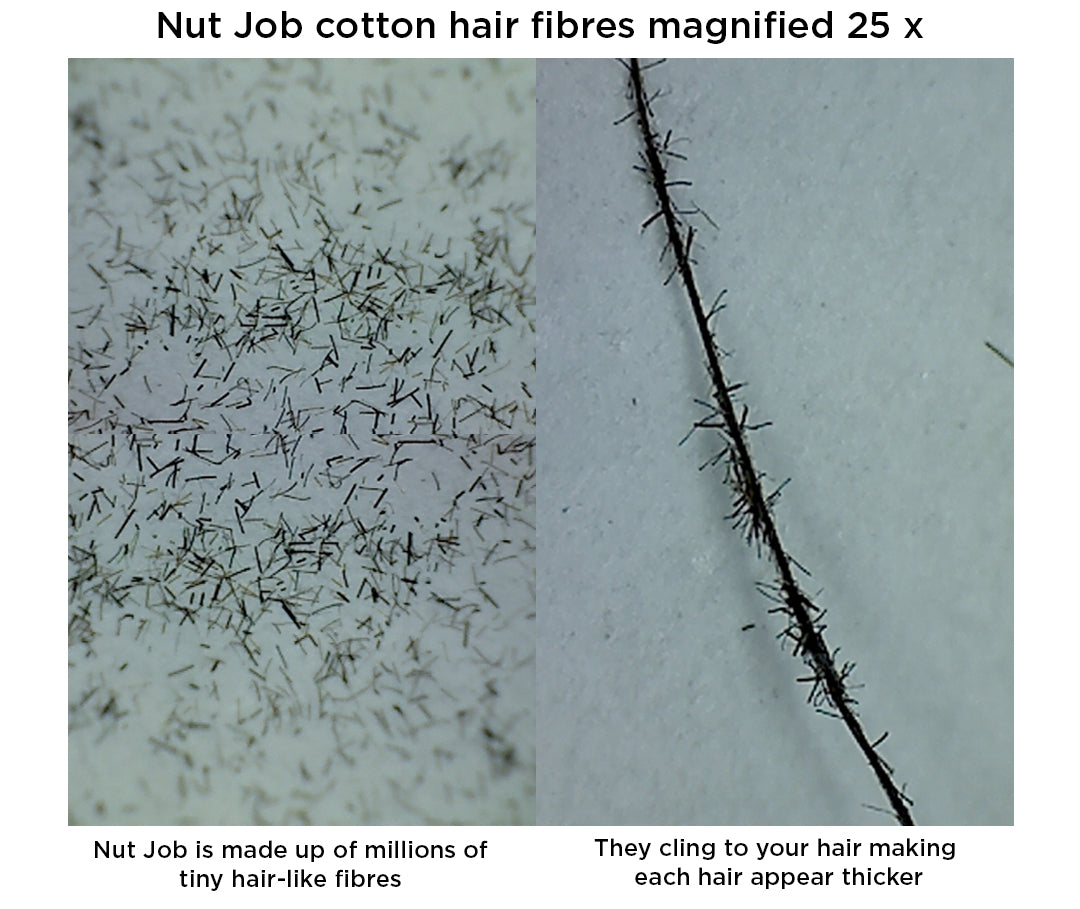 Microscopic Image of Nut Job
On the left Nut Job magnified 25x and on the right, one strand of hair magnified 25x with Nut Job shown clinging on with no tricks or spray.
Simply wash, dry and style your hair as you normally would. Next, shake Nut Job natural hair thickening fibres onto thinning areas and blend with your fingers to encourage the fibres to cling to each hair shaft.
Although not 100% necessary, many people finish with a light spray of Nut Job finishing spray (or any hair spray will do) to help keep your style in place all day long.
Is Nut Job different to other hair fibres?
Our customers sure think so.
Hair fibres began to show up about 30 years ago and were an instant hit with guys like us as well as celebrities. Problem was, these fibres were made using a chemical process to mimic the keratin found in hair. Unfortunately these 'keratin' products are expensive and often contain some seriously sketchy chemicals.
Nut Job™ is Australia's leading brand:
We are based in Sydney for local customer service
Committed to bringing you the latest technology in hair fibres
Our products are of the highest quality
Made from natural ingredients and have the best cling on the market.
Not to mention we do all of this at a better price than the other dodgy stuff out there
Don't waste another minute!
Get the thicker hair you want today!
So what have you got to lose ?
Oh, yeah… don't think about this for too long!
Spend just a few bucks today to receive it tomorrow*.
Use this discount code at checkout to receive FREE Shipping:  IMCOVERED 
(Australia only)*
And guess, what? We offer a money back guarantee! So if you're not happy, flick us an email and we'll give you a refund or exchange, no questions asked.
Our promise to you: If you don't see double the hair instantly, we will give you your money back and you can keep the product!