Not All Hair Fibres Are the same
New Look.
Still Same Great Products
If you're not into paying megabucks for a promise in an old man can that may not deliver, then Nut Job is the product for you.
We take our product innovation seriously. There are dozens of hair fibres on the market now and most of them are pure rubbish. Cheap imitations. Shake them into a glass of water and watch the dye leach out and turn the water green.
Nut Job's innovative and high performance formula easily takes out the competition. We haven't packed our products full of unnatural dyes and pigments trying to make a laboratory generated fibre look like hair. Nut Job is a natural plant based fibre made from cotton. It contains no harsh chemicals to infiltrate your follicles and being natural cotton, your head won't build up a tolerance to it. You'll always get same the amazing Nut Job results you got the very first time you used it!
Better than the competition and NOT keratin!
There's a lot of cheap junk out there. Freebies and giveaways from companies that can't sell their products to anyone, so they have to give it away! Nut Job is the real deal and there are tens of thousands of Aussie men and women using it every day.
Nut Job is not made from keratin like the others. Keratin is a chemical that is made in a laboratory to imitate the natural protein in hair. Unlike real hair, keratin products are water soluble and so the colour runs and the fibres lose their colour. If you sprinkle some keratin hair fibres into a glass of water you will see that the colour immediately leaches out and turns the water green!
Some blonde keratin hair fibre product users comment that their hair actually turns green in the su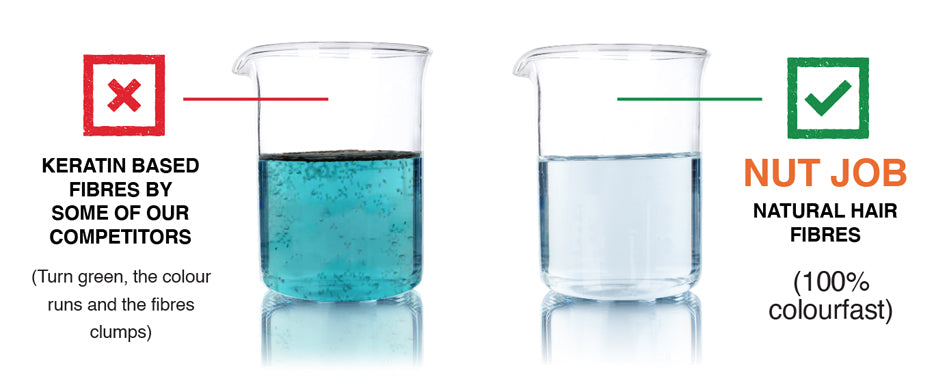 Natural
Nut Job comes straight from nature to your head! Nut Job is made from all natural plant fibres that won't irritate your noggin. Other products in the market place are made with harsh chemicals and unnatural sludge that can actually impair hair growth with long term use. Who wants to risk that? The all natural ingredients in Nut Job will simply cling to your hair unnoticed by your body. Awesome, huh? .
What's sexier than thick hair? Confidence! And you can get both in a bottle of Nut Job 👌
Here's what Rocco, customer for two and half years, has to say: .
"Nut job is fantastic! After years of trying different products, nothing compares to this. It is quick and easy and blends in well with my hair. Slight balding and patches are no longer to be seen. Really happy with this product and I assure you, after using Nut job you will be impressed too."
Super Stage 5 Clingers
Nut Job is specially statically charged to cling to your hair making it appear fuller and thicker instantly. Other products are heavy and not adequately charged so they just plop onto your scalp and make you look like you've coloured your head in with a texta. Yikes. Nut Job is totally different. It clings to your existing hair to make it appear fuller, rather than just colouring in your scalp. You want more hair, not a coloured scalp, right?
Compare the cost of Nut Job with other popular brands and you will find that Nut Job's current price is half the cost of the nearest competitor. Don't be fooled by their pack sizes! And don't fall for cheap options. .